Decks, sealing
Decks are a beautiful, prominent and often expensive addition to your home. Properly cared for decks can maintain their beauty and value for decades. It only makes sense to protect an investment with so much potential. The elements are very harsh on a deck, from ice, sleet and snow in the winter to rain and baking sun in the summer, a deck has to withstand tremendous variations in climate. Additionally improper maintenance can actually do more harm to your deck than the elements. (see Hands on Deck ~ how to properly power wash a deck)
One of the best ways to maintain the beauty and value of a deck is by keeping it sealed. There are a variety of sealers and stain/sealers available on the market. Deciding on which products are best for your deck can be quiet a challenge. In order to make a good decision first determine what you are trying to achieve. If your deck has never been stained and you want to change the color, you need to use a stain or stain/seal product. Read (Staining decks) for some insight on how choose and apply deck stains. If your deck has already been stained then you should only use a stain of similar type and color. Do not apply latex stain over oil base or oil base stain over latex. Always test an inconspicuous area of the deck to see if you are going to get the desired results.
If your only interest is protecting your deck then applying a sealant is all that is required. Be aware that if you apply sealant to your deck then you should wait at least one year and possibly up to three years before applying any stain.
Sealants come in oil base and water base. Because oil based sealants generally hold up the best I don't recommend using water borne sealants. Many sealants tout their resistance to UV rays from the sun. While UV resistance is a desirable quality it is more important for stained wood. Unstained wood will turn grey even if sealed with a UV resistant product, just at slightly slower rate. Other than color change UV rays have very little effect on the wood itself. If you have stained your deck, to achieve the best results, make sure the stain has dried thoroughly before applying any sealant.
Sealants can be applied by brush, pad, roller and pump or airless sprayer. If you are using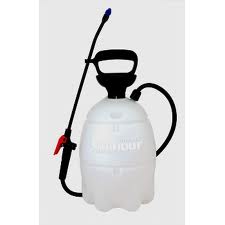 a stain/sealer product follow the application guidelines found in (Staining Decks). If you are using a sealer only, apply using any combination of the tools listed above. The sealant will darken the wood as it is applied giving it an appearance similar to wetting it with water. Decide on a plan of action that will permit you to apply sealant to all areas of the deck while ending up on the steps so you are not trapped in a corner.
Application Tips
Make sure deck is clean and dry before applying sealant
Wear neoprene gloves (sealant is difficult to remove from hands)
Wear cloths and shoes that you don't mind getting sealant on.
Mask or cover all areas that you don't want sealant on including nearby plants.
Do not apply sealant with a sprayer on windy days.
Stir sealant thoroughly and often.
Apply a heavy coat but not enough to drip or puddle.
Start with the rails and work down to the floor.
Seal the band, under pinning (if applicable) and steps last.

Danger of spontaneous combustion! Read and follow manufacturers recommendations for disposal of stain

/sealant

soaked items including brushes, roller covers, pads and especially clean up rags.(this applies to oil based stains)
Wood's Home Maintenance Service provides professional maintenance, repair and building solutions. Let us get started on your project Today


Be Social - please like and share