Window Replacement Options
I was recently asked to discuss the best window replacement options to prepare a home for sale. The answer is really dependent on many factors. The condition of the windows and the budget are two primary criteria, but there are many others that vary from home to home. I thought my response to the following question would make an informative post on the subject so let me know what you think.

The original wood windows in our home (built 1986) are aging, and we're preparing to sell our home. Both Andersen and Pella provided estimates between $30-45K to replace 35 windows. The Andersen windows weren't bad, we liked them better than Pella, but both estimates are too high. That is, we're already losing money on the sale so why should we spend $35K to make back perhaps $10K? Of course, not replacing windows will cost us, too.
I'd like the opinion of someone (you!) who isn't a real estate agent or trying to sell us new windows. We live in northern Virginia.
What are your thoughts on our window replacement options?
Would it make sense to just repair/repaint the wood windows?
Should we try to get estimates from smaller companies?
Your thoughts/opinions would be appreciated!

Window Replacement Options
Both Anderson and Pella are well known names and as such there is no doubt that both may come with a premium price attached. A thousand plus dollars per window seems excessive but may not be depending on the way the window replacement is handled.
The condition of the existing windows is an important factor in making a sound decision. If the existing window jambs, sashes and sills are still relatively sound, replacing the windows may not be the best option. Repairing and painting the window may be a more cost effective way of getting the house ready to sell.
If you feel it's necessary to replace the windows, you must decide between sash and track replacement, after market replacement windows or whole window unit replacement.
Sash and track replacement
Sash and track replacement (if compatible components are still available) will allow you to maintain the original look at a cost that should be comparable to after market replacement windows. This approach requires minimal disruption of the interior trim but jambs and sills must be in serviceable condition. Exterior trim, (usually brick molding) is easily replaced but will require caulking and touch up painting. If extensive repairs to the jambs and sills are required, another option is probably best .
Vinyl or vinyl clad replacement windows

Replacement windows (usually vinyl or vinyl clad) can be a cost effective way to get new windows. Replacement windows are installed in the existing window jambs after the old sashes and tracks are removed. It requires minimal disruption of the interior trim, but does require the jambs, sills and exterior trim be in serviceable condition. Sills and exterior trim with slight damage may be patched and wrapped in painted or vinyl coated aluminum trim. Replacement windows are available with a wide selection of features including wood grain interiors,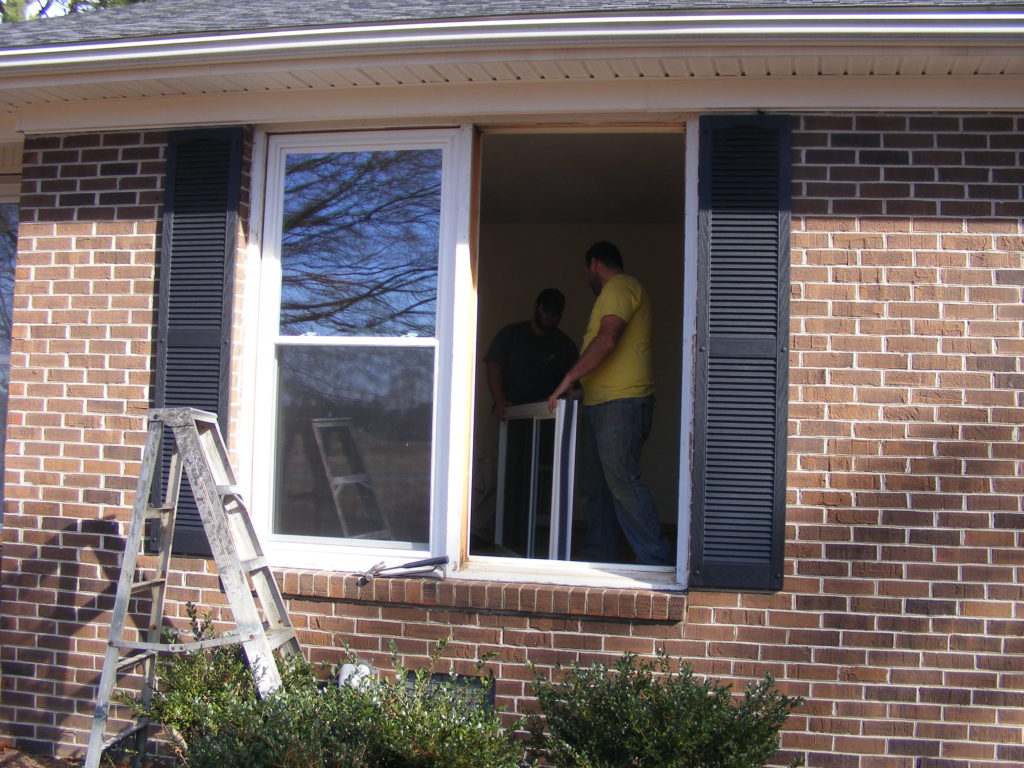 extensive grid and glass options and long warranties that are often transferable to subsequent owners. There are many companies in the replacement window business and research is critical in finding a good company. I am not a fan of buying replacement windows through the big box stores. They often promote lower end windows and sub the work to contractors that rush the work to maintain profit margins. Many larger home improvement companies or window replacement companies have competitive pricing but the work may be subbed out or they have installation techs that may preform work to minimal standards. Most local vinyl siding and window wholesalers can recommend contractors that live and work in your area. These companies have incentive to provide superior products and service, although they may not be quite as competitive in price.
Replacing the entire window unit

Replacing the entire window unit is more disruptive and requires more labor than other window replacement options. It requires the removal of all interior trim as well as the entire window unit. Any siding around each window must be disrupted or removed. The rough openings must then be re-flashed before new window units are installed. Exteriors of new windows must be caulked and painted as well as any existing or new siding around the windows. On houses with brick or stone veneer, the new units are caulked and painted up to the veneer. Interior trim may be reused, but is often damaged during removal, requiring new trim be used. The interior of the new window units must be painted as well as the new or existing trim. Interior trim should be caulked to the walls, which requires at minimum, a touch up of the wall paint and often painting the entire room if a paint match is unsuccessful. Replacing entire window units will result in like new or better than new outcome, but it does come at substantial cost.
---
Did you enjoy this post? Tell us what you think in the comments box below.

Want to see more?
Subscribe to our RSS feed or Subscribe by e-mail
Wood's Home Maintenance Service offers solutions for a wide range of building, maintenance and repair needs. Give us a call or click the button below to contact us today for a free estimate.