Staining Decks
An unstained deck will weather to a uniform grey color that is quiet acceptable to many deck owners. Others feel that the natural grey is too drab or just plain old looking. While it is not necessary to stain your deck it is one of the best ways to keep your deck looking new over time. Stains can and will add some protection to your deck but aesthetics is the primary reason to stain a deck. If protection is your only concern then deck sealing is recommended. (See Deck Sealant) Some stains now come with sealer included. I only recommend using transparent or semi- transparent stain/sealer products.
Oil or Latex
Stains are available in traditional oil base or newer latex (water) based varieties. The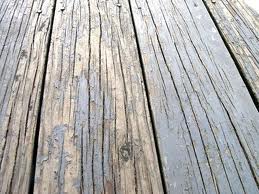 latex based stains are available in a wide variety of colors and shades but be warned, they tend to go on thicker and build up on the surface more than most oil based stains. Because of this surface buildup, wear patterns are common where foot traffic is the heaviest. Latex stains will look great when first applied but many times I have encountered home owners who regretted using latex stains after a few years. Once latex stain is applied to a deck, it will have to be completely sanded off before oil based stains can ever be used on that deck. Do your research before choosing any stain, once a deck is stained your choice is usually permanent.
Some oil based stains are also thick enough to build up on the surface and are subject to the same wear pattern issues described in the previous paragraph. I have seen this most often in stains that were "red" or "Barn red" in color. If you wish to avoid these issues I recommend using a semi transparent oil based stain. The pigment is drawn down into the wood imparting a color while highlighting the natural wood grain without covering it up. Color or shade options are not as great as with the latex stains but if you find a color you like it will hold up well and can easily be reapplied when it fades.
Preparation
If your deck is new let it dry out a few weeks before staining it. Choose a time when it has not rained for several days and rain is not likely for at least 24 hours. If you have an older deck you may need to clean it to remove any stains or mildew.(See Hands on Deck ~ How to properly power wash a deck) Make sure it is dry following the same guidelines as for a new deck. Do not apply stain on a deck that has recently been sealed as the stain will not adhere properly. Wait a minimum of one year after sealing to apply stain and then it is advisable to test a small area first.
Nail or screw down any loose boards and replace any damaged boards. Check to see that the rails are secure and pickets are not loose. Remove any planters, bird feeders or other ornaments that are attached to the deck and remove all furniture. Decide on a plan of action that will permit you to stain all areas of the deck while ending up on the steps so you are not trapped in a corner.
Tools
Stain may be applied in several ways. The most common are brush, roller, pad, pump sprayer and airless sprayer. Each have advantages and drawbacks. Brushing is the most versatile way to apply stain. With a brush (and a little practice) you can reach all areas to

be stained and also keep stain off areas where you don't want it. Brushing can be quite time consuming though. Roller application is fast but will not allow access in tight corners and between the cracks in boards. Pad applicators allow the control of a brush and the speed of a roller however they tend to wear out quickly and like a roller won't get into cracks well. Pump up sprayers and airless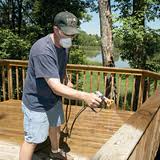 sprayers are very fast but over-spray is a major issue. If you wind up with stain on your house, shrubs or the car any time you saved will be used in cleaning up the mess. Using an airless or pump up sprayer and immediately going over any drips or uneven areas with a brush is an effective strategy to apply the stain quickly while maintaining quality.
Tips
Wear cloths and shoes that you don't mind getting stain on!
Wear neoprene gloves (stain is very difficult to remove from hands)
Stir your stain thoroughly and often
If you have more than one can mix all cans together to ensure uniform color
Start with the rails and work down to the floor
Stain the band, under pinning (if applicable) and steps last
Keep drips to a minimum and wipe over them before they dry
Maintain a wet edge to avoid overlap marks after stain has dried
If you must stop try to finish up a complete board (to avoid overlap marks)

Danger of spontaneous combustion! Read and follow manufacturers recommendations for disposal of stain soaked items including brushes, roller covers, pads and especially clean up rags.(this applies to oil based stains)
If using a brush:
Use only genuine china bristle brush (oil base)
Use synthetic bristle brush (latex)
Apply uniform amount of stain and back brush for best coverage
Maintain a wet edge
Work from top to bottom
Mask or shield areas as needed to keep stain off
If using a pad or roller:
Maintain a wet edge
Work from top to bottom
Touch up as needed with brush
If using pump or airless sprayer:
Mask or cover all areas that are subject to over-spray
Do not spray on windy days
Apply a uniform coat of stain
Work from top to bottom
Touch up as needed with a brush
Wood's Home Maintenance Service provides professional maintenance, repair and building solutions. Let us get started on your project Today