Blinds Between the Glass (BBG)
Blinds Between the Glass (BBG) – is an option now offered on many window and door units. This upgrade maintains the energy efficiency of the window or door while providing a modern and elegant solution for regulating light and privacy.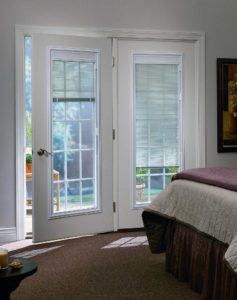 Placing the blinds between the two panes of glass eliminates dangling cords or the need to dust the blinds. It also protects them from damage by people or pets. The blinds may be raised or lowered and opened or closed via the use of one discrete magnetic clasp located at one edge of the glass.
When the blinds between the glass (BBG) option is chosen along with the grids between the glass (GBG) option, the unit may be configured in one of two ways. The door may be supplied as triple pane with the blinds between the inner and central panes and the grids between the central and outer panes. Alternatively, the door may be supplied as a standard double pane with the grids between the inner and outer panes. This option utilizes an add-on blind unit that attaches to the interior of the door glass frame. In both cases the blinds are behind glass and require no maintenance. The add-on blind unit is less expensive but not quite as sleek as the triple pane option. Add-on blinds are also available as a retrofit over existing door units.
---
Did you enjoy this post? Tell us what you think in the comments box below.

Want to see more?
Subscribe to our RSS feed or Subscribe by e-mail
Wood's Home Maintenance Service recommends and installs doors with Blinds between the glass options. We also offer solutions for a wide range of building, maintenance and repair needs. Give us a call or click the button below to contact us today for a free estimate.