Blind stop molding ~ A piece of rectangular molding which is utilized in the construction of window frames. It's fastened between the outside edge of the window jamb and the brick molding or other exterior window trim. The outer edge of the blind stop is positioned flush with the outer edge of the window jamb. It extends across the jamb edge and protrudes past the inside edge of the jamb, thereby creating a ledge or lip for the outside window sash or window sash track to abut.
Blind stop molding, alone or in conjunction with the sash track, forms an outer boundary that confines the sashes in their proper position. An additional function of blind stop along with sash tracks is preventing air infiltration between the sash and window jamb.
Traditionally made of wood, it is now common for newer windows to be fabricated with PVC brick molding and PVC blind stop. It is an industry best practice to use PVC blind stop and brick molding when these exterior moldings are replaced.
When vinyl replacement windows are installed in existing wood window jambs, especially on homes clad in other than vinyl siding, replacing the wood brick molding and blind stop is an industry best practice. It is also an elegant means of furthering the low maintenance aspect of the vinyl windows while maintaining the same traditional look and molding profile of the original wood windows.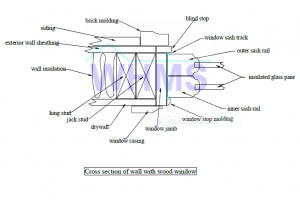 ---
Did you enjoy this post? Tell us what you think in the comments box below.

Want to see more?
Subscribe to our RSS feed or Subscribe by e-mail
Wood's Home Maintenance Service offers solutions for a wide range of building, maintenance and repair needs. Give us a call or click the button below to contact us today for a free estimate.